In honor of Valentine's Day, I want to share a story that warms my heart. Just four short months ago, we released the Webex App for Google Calendar, which lets users schedule a Webex meeting right from within their Google Calendar app.
Today, I am blown away by how many people have embraced this app because there are now more than a million users! I believe that's a testament to two things:  the strong partnership between Cisco and Google that allowed us to quickly integrate the two apps, and the simplicity of the Webex meeting scheduling process.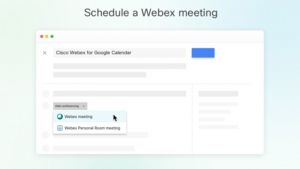 Through the partnership integrations with Google Cloud, Cisco was one of the first vendors to support the new native Google Calendar add-on, and we very quickly enabled the following with the Webex Meeting app:
Natively embedded Webex Meetings UI on Google Calendar
No installation on end-user's PC
Easy upgrade management
Access from any browser
Scheduling from across desktop/mobile clients
Easy one-button-to-push calling (requires support for Webex Hybrid Calendar Service with Google Calendar)
Like the Cisco-Google relationship, here's another one that just works:  Joining a Webex Meeting from a Cisco device by just pushing one big green button. Everyone talks about wanting to make technology easy, but simplicity is no small feat. Simple translates as, "I don't need to think about it." And I truly believe that's why users love this app. It's intuitive, it's fast and it's even an enjoyable experience. When a meeting is about to start, the green button appears on your Cisco Webex device screen or Touch 10 control unit. Just press it, and you're in. It doesn't get any easier than that.
So, I completely understand why the Webex App for Google Calendar is more than 1 million users strong. I love it, too, and am still a little impressed every time I experience it.
If you haven't experienced it yourself, you can get a guided tour and see additional resources here. If you're a G-Suite user and your admin hasn't already installed the Webex Meeting app for you, simply download it from the G Suite Marketplace.
This initial success is just the start of our partnership with Google, but we can use this as the blueprint for our future work together. Stay tuned, because there's much more to come from the Cisco-Google relationship.
Source: blogs.cisco.com Credit@ Connie Tang