AIOps and the Future of Performance Monitoring
Today, application infrastructure is increasingly complex. Organizations are building and monitoring public, private, and hybrid cloud infrastructure alongside microservices and third-party integrations. And while these developments have made it easier for businesses to scale quickly, they've introduced a deluge of data into the IT environment, making it challenging to identify issues and resolve them quickly. APM solutions like AppDynamics continue to lead the way when it comes to providing real-time business insights to power mission critical business decisions.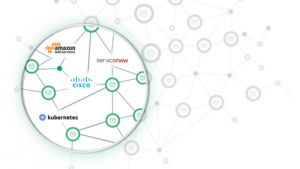 This is where AIOps enters the picture. AIOps enables organizations to leverage artificial intelligence (AI) and machine learning to derive real-time insights and automate tasks to augment IT operations teams. This requires a mindset shift for teams to move away from siloed monitoring tools and start building a proactive approach to performance monitoring. When teams embrace an AIOps mindset, endless debugging tasks will be a thing of the past. AI-based systems will accelerate root case analysis, predict performance issues, recommend optimizations, and automate fixes in real-time.
The Next Chapter in the AppDynamics & Cisco Story: The Central Nervous System
Since the acquisition, we welcomed Perspica to the family to enrich our machine learning capabilities, expanded product coverage into areas like Business IQ, .NET Core, Kubernetes, SAP, and Mainframe, and leveraged new routes to market through Cisco and our partner programs.
A critical element of embracing the AIOps mindset is to have a platform that can take input from various data sources, analyze it, and automate action in real-time. Similar to how the central nervous system takes input from all the senses and coordinates action throughout the human body, the Cisco and AppDynamics AIOps strategy is to deliver the "Central Nervous System" for IT operations – giving customers broader visibility of their complex environments, deriving AI-based insights, and automating IT tasks to free up resources to drive new innovation.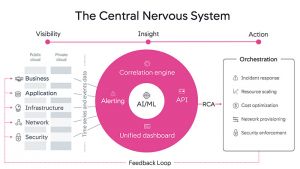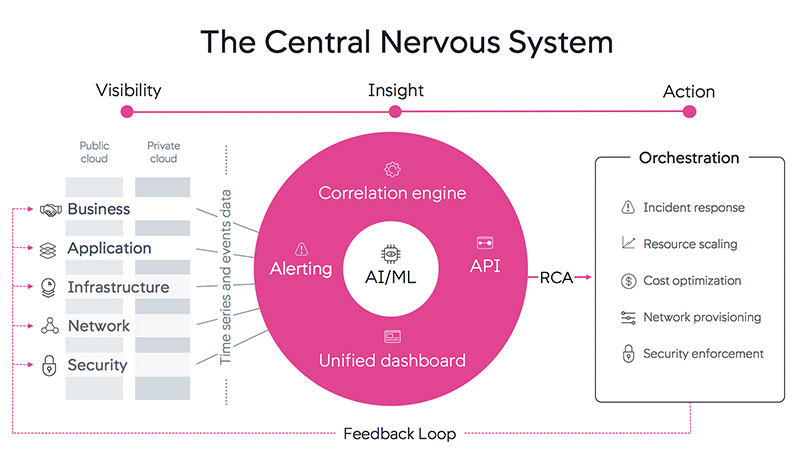 To bring the Central Nervous System to life, it needs to understand how application performance impacts business outcomes and customer experience – and that's exactly what our Business iQ solution makes possible. AppDynamics Cognition Engine brings real-time insights to mission-critical applications and business performance by using machine learning to go beyond problem detection, to root cause identification, allowing IT teams to develop an automation framework for faster remediation and resource optimization.
And then there's Cisco – a critical piece needed to power the Central Nervous System. Cisco connects and monitors billions of network devices, lights up data centers for hundreds of thousands of customers, blocks over 20 billion security threats per day, and collects hundreds of trillions of application metrics per year. Bringing this massive data set together for cross-domain correlation with machine learning and AI will deliver insights that no other company can provide.
Cisco's diverse partner ecosystem will also help develop innovative offers and scale go-to-market efforts. And it's all of these elements that will fuel the AIOps journey for our customers.
Empowering Agents of Transformation: Our Customers
Together with Cisco, we're committed to helping our customers at every stage of their AIOps journey. We want to empower great leaders to drive real business transformation and make them Agents of Transformation for their organization and their industry.
Learn more about AppDynamics here. Contact your Cisco Account Manager if you are interested in getting started with one of our AppDynamics Visibility Packs.
Source: blogs.cisco.com – Credit@ Thomas Wyatt