As the world continues to face formidable challenges, one of the many things impacted is cybersecurity. While recent challenges have been varied, they have all contributed to great uncertainty. How can organizations stay strong and protect their environments amidst so much volatility?
Lately, we've been talking a lot about security resilience, and how companies can embrace it to stay the course no matter what happens. By building a resilient security strategy, organizations can more effectively address unexpected disruptions and emerge stronger.
Through our Security Outcomes Study, Volume 2, we were able to benchmark how companies around the world are doing when it comes to cyber resilience. Recent blog posts have taken a look at security resilience in the EMEA and Americas regions, and this post assesses resilience in the Asia Pacific, Japan, and China (APJC).
While the Security Outcomes Study focuses on a dozen outcomes that contribute to overall security program success, for this analysis, we focused on four specific outcomes that are most critical for security resilience. These include: keeping up with the demands of the business, avoiding major cyber incidents, maintaining business continuity, and retaining talented personnel.
Security performance across the region
The following chart shows the proportion of organizations in each market within APJC that reported "excelling" in these four outcomes: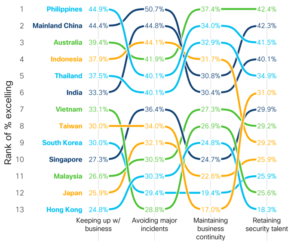 There is a lot of movement in this chart, but if you take a closer look, you will see that many of the percentage differences between markets are quite small. For example, 44.9% of organizations in the Philippines reported that they are proficient at keeping up with the business, with Mainland China closely following at 44.4%.
The biggest difference we see between the top spot and the bottom spot is around retaining security talent—42.4% of organizations in Australia reported that they were successful in that area, while only 18.3% of organizations in Hong Kong reported the same.
Next, we looked at the mean resilience score for each market in the region: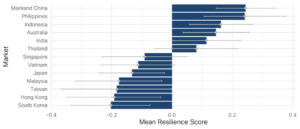 When we look at this, we can see the differences between the top six and bottom seven markets a bit more clearly. However, as the previous chart also showed, the differences are very slight. (When we take into account the gray error bars, they become even more slight.)
There are many factors that could contribute to these small differences when it comes to security resilience. But the most important thing to be gleaned from this data is how each market can improve its respective resilience level.
Improving resilience in APJC
The Security Outcomes Study revealed the top five practices—what we refer to as "The Fab Five"—that make the most impact when it comes to enhancing security. The following chart outlines the Fab Five and demonstrates how each market in the APJC region ranked its own strength across these practices.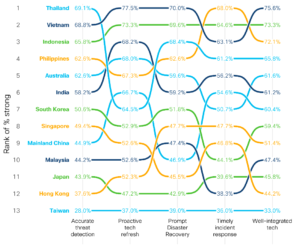 If we look at Thailand, for example, 69.1% of organizations say they are adept at accurate threat detection, while only 28% of organizations in Taiwan say the same. Like in the previous charts, there is a lot of movement in how various markets reported their performance against these practices. However, it's interesting to note that Taiwan remained consistent.
So does implement the Fab Five improve resilience across organizations in APJC? Looking at the chart below, it's safe to say that, yes, implementing the Fab Five does improve resilience. Organizations in APJC that did not implement any of the Fab Five practices ranked in the bottom 30% for resilience, whereas those that reported strength in all five rose to the top 30%.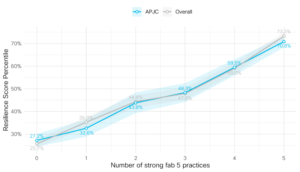 Boost your organization's cyber resilience
While building resilience can sometimes seem like an elusive concept, we hope this data provides some concrete benchmarks to strive for in today's security programs. For additional insight, check out our resilience web page and the full Security Outcomes Study.
Source: blogs.cisco.com Credit@ Cindy Valladares