Cisco is transforming the way customers deploy and manage Cisco UCS and Cisco Hyperflex systems. Intersight, a software as a service (SaaS) management platform, introduced the benefits of connecting these systems to intelligence and best practices from Cisco allowing customers to significantly simplify operations and reduce operating costs.
Why do I need the Cisco Intersight virtual appliance?
Some customers have additional data locality and security requirements for managing systems whether on the edge or in more traditional data centers that may not be possible to fully meet with SaaS delivered management. These customers have significant regulatory and compliance needs that require certain details about systems under management to remain within the borders of countries or on their premises.
For these customers, additional control over the data collection is necessary. The Cisco Intersight virtual appliance enables the additional control to specify what data is sent back to Cisco with a single point of egress from your network.
The Cisco Intersight virtual appliance can provide this benefit while still maintaining access to the great SaaS capabilities that Cisco Intersight delivers. We've also added some features to the virtual appliance form-factor to better ensure that it fits right into your environment.
How It Works
We took the micro-services that provide the capabilities of the SaaS version of Intersight and optimized them to run in an easy to deploy VMware OVA hosted on your infrastructure. We also used the same device connector technology embedded in our UCS and HyperFlex systems to facilitate a connection between that virtual appliance and services running back in the Cisco cloud. All of your UCS and HyperFlex systems can now connect directly to the virtual appliance, and you can control what data about those systems is sent back to Cisco based on settings you specify. This helps address both government regulations as well as organization specific data sharing preferences.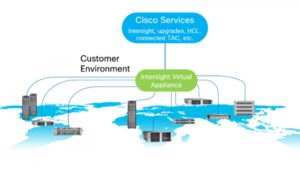 The Cisco Intersight virtual appliance requires a connection back to Cisco and Intersight services for updates and to deliver some of the product features. Updates to the virtual appliance are automated and applied during a user specified recurring maintenance window. This connection also facilitates the streamlining of Cisco TAC services for Cisco UCS and HyperFlex systems, with features like automated support log collection.
The Cisco Intersight virtual appliance is a fresh approach to delivering on-premise systems management services, so we put together a short video to further explain the virtual appliance option and its benefits.

Additionally, please review the configuration video to see how quick and easy it is to deploy and get started with the Cisco Intersight virtual appliance. To learn more, including how to download and experience the Cisco Intersight virtual appliance for yourself, check out cisco.com/go/intersight
Source: blogs.cisco.com Credit@ Ken Spear