Any Platform. Any Location. Any Workload.
Speed and agility are vital for IT organizations to keep up with today's fast moving, compressed business cycles. Businesses demand rapid deployment of applications and services without platform or infrastructure limitations, as workloads today span traditional on-premises, cloud, and an emerging enterprise edge.
To meet the unique requirements of each, IT organizations need to architect a solution that provides policy-based automation for connectivity and segmentation in multicloud to remove obstacles for the business. Ideally, this solution addresses:
Any Platform: Any hypervisor or container framework such as Hyper-V, OpenStack, Docker, Kubernetes, and OpenShift.
Any Location: On-premises, Cloud, and emerging edge locations.
Any Workload: Cloud Native, Bare-metal, Hypervisor, Container, as well as Serverless.
There are a few essential items to consider when evaluating a solution to ensure a successful deployment across cloud and on-premises.
Native API and Virtual Machine Manager (VMM) integration are important to leverage the best available technologies and provide customers the flexibility to extend the platform on their own.
Manageable implementations that scale and can be automated.
Visibility into data path without cumbersome correlations across unnecessary layers.
Replicating a homogenous enterprise stack in the cloud is not where the industry is going.
 If you get the bottom of the stack right (networking and segmentation), then everything else is easier to accomplish.
Any Location
Cloud
The cloud is an API-driven infrastructure void of traditional networking concepts and hypervisors. The method to extend network and security must integrate with the cloud-native API to be platform aware for a seamless data plane integration and policy extension.
Cisco's ACI Anywhere integrates through cloud-native APIs providing the highest degree of flexibility. This approach has the following advantages:
No overlay network in the cloud.
No agent dependency to allow broad applicability for any workload.
The solution adapts with the scale of the Cloud.
In contrast, VMware offers two different solutions for cloud deployments:
Cloud Native integration with an agent-based overlay (NSX-T).
Agent-based solutions require a lightweight hypervisor, which VMware refers to as a piece of "shim," to be installed on all managed machine instances creating a management plane. Virtual machine frameworks like this couple the hypervisor and application together, which constrains portability and creates more complexity by introducing the non-native network and segmentation layers.
Agent-based solutions are not cloud platform aware. They lack cloud integration- there is no native API interaction for cloud networking or segmentation.
Full hypervisor stack requiring dedicated resources (VMware Cloud Foundation, or VCF).
VCF transfers the legacy hypervisor model into the cloud as a service offering. Customers now have additional deployment friction due to VMware stack and cloud dependencies. Also, this approach limits customers to enterprise scale instead of taking advantage of the native cloud scale. This requires choosing a VCF stack over a native cloud solution that makes it easy to adopt other cloud services.
VCF is a bare-metal story, introducing significant operational and cloud overhead. Who pays for the VMware bare metal in the cloud?
Cisco ACI provides consistent policy while taking advantage of cloud scale and native cloud API services.
The dynamic of cloud providers moving from revolutionary to evolutionary along with evolving business requirements are driving multi-cloud adoption. But cloud migration is a tremendous undertaking for businesses and IT organizations. Operational and resource efforts for cloud adoption come with long-term capital, OpEx, and agility promises. Applications have to be re-written and, in some scenarios, re-defined as a part of the journey to the cloud.
Virtual machine frameworks and overlays that tightly couple the hypervisor and application not only strain portability but also introduce significant financial risk to the business. In some scenarios, this may be detrimental to the company.
Cisco ACI is open, extensible, and consistent between on-premises and clouds without being dependent on a specific hypervisor approach. IT organizations must evaluate the network automation and security solution with a wide lens.
Any Workload
IT organizations remain tasked with connecting and securing mission-critical databases and applications residing, on premises or in the cloud, in either bare-metal or virtualized environments.
Data
Data is the currency of digital business and its most critical asset. Applications are a gateway to data, and Cisco understands that security and automation don't stop there.
Data resides in multiple locations and variations depending on business application and use cases. No two enterprises are the same, and neither is the application architectures. Networking and security of how all of this is connected are critically important.
Cisco ACI secures and connects bare-metal and virtualized workloads with deep visibility. Cisco offers fully supported native VMM integration with all major hypervisor environments including VMware vSphere and vDS.
Cisco ACI Delivers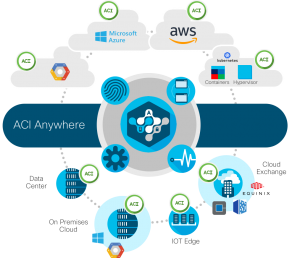 Cisco ACI delivers flexibility to the business.
Think of the future – time and business cycles are moving fast. You don't want to risk becoming quickly outdated and stuck with an obsolete infrastructure – or worse – a legacy infrastructure.
The key to successful on-premises, multi-cloud or hybrid implementation is to keep it simple.
IT organizations must implement a network and automation solution that has non-intrusive components void of any friction. VMware NSX introduces friction with additional elements that increase complexity, add breaking-points, and take away flexibility.
The ACI advantage is transparent to DevOps, application, and data teams, and provides secure and automated network connectivity on-premises, hybrid, or multi-cloud. Satya Nadella, CEO of MSFT was quoted recently in a Wired.com article:
"In the past, we had a homogeneous approach to our stack. But I feel like right now we are API-ing every layer, celebrating any use anywhere and knowing we'll have more opportunities in the future. One thing I've learned at Microsoft is, look, platform companies are best when they can create more opportunities for others." 
Cisco agrees with that philosophy. ACI was built based on the concept of open APIs. Maybe no coincidence that Satya was there on stage, 5 years back, when Cisco launched ACI.
Source: blogs.cisco.com Credit@ Thomas Scheibe