Cisco is pleased to announce the availability of a brand-new solution, Cisco Cloud ACI on AWS. This solution automates the management of end-to-end connectivity and enforcement of consistent network security policies for applications running in on-prem data centers and AWS public cloud regions.
Decentralized Data Means Cloud Growth
Enterprises, large and small, are expanding to the cloud to build applications that engage their customers. And their developers and IT teams must manage their private and public cloud environments.
IDC expects spending on cloud IT infrastructure to grow at a five-year compound annual growth rate (CAGR) of 11.2%, reaching $82.9 billion in 2022, and accounting for 56.0% of total IT infrastructure spend. Public cloud data centers will account for 66.0% of this amount, growing at an 11.3% CAGR. Spending on private cloud infrastructure will grow at a CAGR of 12.0%*.
Due to this massive shift in the decentralization of data, increasing cloud acceptance, and move to hybrid environments, businesses need a network that can empower the data center to go securely anywhere. Innovation should only be limited by imagination, not technology. Cisco's ACI Anywhere with Cloud ACI is the bridge.
Multicloud Doesn't Need to Mean Complexity
As the adoption of multi-cloud strategies grows, the industry is demanding consistent policy, security, and visibility everywhere, with a simplified operating model. IT organizations are challenged to maintain governance, compliance, agility, flexibility, and TCO optimization for legacy, virtualized, and next-generation applications across multiple on-premises sites and clouds.
Highly complex operational models today are the result of diverse and disjointed visibility and troubleshooting capabilities, with no correlation across different cloud service providers. There are multiple panes of glass to configure, manage, monitor, and operate these multi-cloud instances. And there are inconsistent segmentation capabilities today across hybrid instances that pose security, compliance and governance challenges.
Cisco Cloud ACI Extends ACI Capabilities from On-premises to Public Cloud
Cisco ACI delivers control and visibility based on the application network policy. With the next phase, Cisco ACI extends this policy-driven automation from on-premises to public cloud instances.
Cisco Cloud ACI runs natively in public clouds and delivers the following key capabilities:
Automated and secure hybrid connectivity through unified management. Through a single pane of glass (ACI Multi-Site Orchestrator), users can configure inter-site connectivity, define policies, and monitor the health of network infrastructure across hybrid environments. Inter-site connectivity includes (i) An underlay network for IP reachability (IPsec VPN over the Internet, or through AWS Direct Connect*) and (ii) an overlay network between the on-premises and cloud sites that runs BGP EVPN as its control plane and uses VXLAN encapsulation and tunneling as its data plane.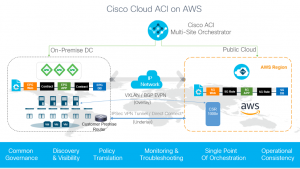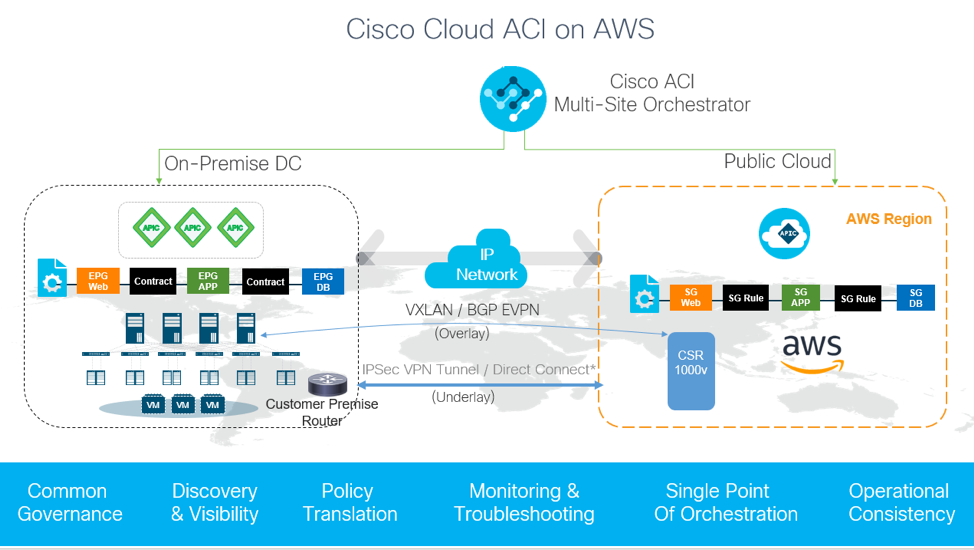 Enable consistent security posture, governance, and compliance through a common policy abstraction. Cisco ACI on AWS uses group-based network and security, policy models. Cloud ACI translates ACI policies into cloud-native policy constructs. The logical network constructs of Cisco ACI (tenants, VRFs, endpoint groups (EPGs), and contracts, etc) translate into AWS networking constructs (user accounts, Virtual Private Cloud (VPC), and security groups, plus security group rules and network access control lists, etc.). This enables consistent network segmentation, access control, and isolation across hybrid deployments.
Enable elasticity for resources across the on-premises data center and public cloud. Enable secure workload mobility and preserve the application policies, network segmentation, and identity of the workload (IP mobility*).
Facilitate workload migration across hybrid environments. Enable secure workload mobility and preserve the application policies, network segmentation, and identity of the workload (IP mobility*).
Enable business continuity and disaster recovery. Allow organizations to maintain or quickly resume mission-critical applications using a back-up and recovery site in the public cloud.
What makes Cisco's Cloud ACI different and relevant for you
Cloud ACI provides a common policy abstraction and consumes AWS public APIs to deliver policy consistency and segmentation. As such, Cloud ACI is not confined to bare-metal instances in AWS and does not require the deployment of agents in cloud workloads to achieve segmentation.
With Cisco ACI, customers can carry all their network and security policies across data centers, colocations, and clouds. Cisco ACI automates cross-domain service chaining of application traffic across physical and virtual L4-L7 devices to scale and seamlessly integrates bare-metal servers, virtual machines, and containers under a single policy framework.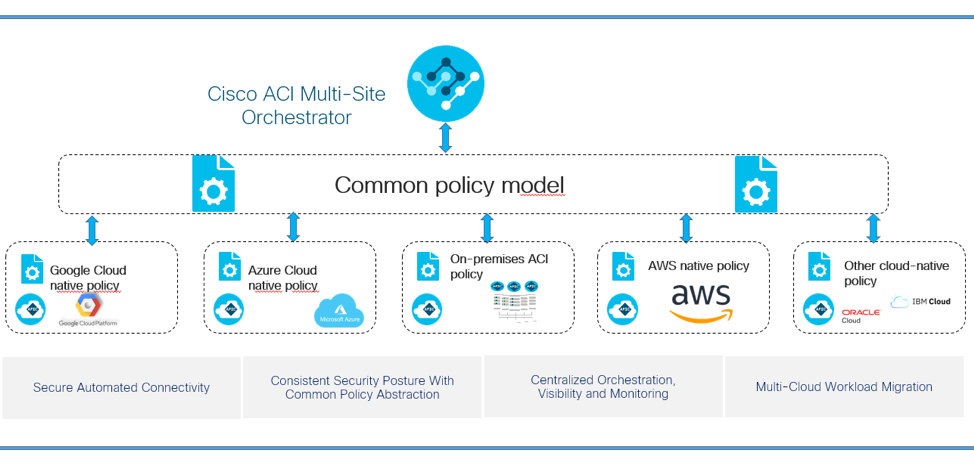 Cisco ACI also has the industry's broadest tech-partner ecosystem and integrates with a variety of solutions ranging from Cisco AppDynamics, CloudCenter to F5, ServiceNow, Splunk, SevOne, and Datadog. Customers can leverage widely adopted tools such as Terraform and Ansible to achieve end-to-end workflow-based automation. AWS customers can tap into the rich cross-silo insights through ACI integrations with AWS technologies like Amazon CloudWatch* and Amazon Simple Notification Service (Amazon SNS)* to fine tune the network for better throughput, latency, path selection, security and cost optimization.
Have ACI Anywhere with Cloud ACI on AWS
As the industry's most deployed, open SDN platform, Cisco delivers advanced capabilities on AWS and simplifies multi-cloud deployments with Cisco Cloud ACI. With the Cloud ACI architecture, customers and analysts see the benefit of seamless layer-in policy consistency, operational simplicity and the flexibility to leverage services offered by public clouds.
"ESG Research validates that companies are increasingly adopting a hybrid cloud approach to deliver the best service for their customers. In fact, many are adopting a Multi-cloud policy" says Bob Laliberte, Practice Director, and Senior Analyst with the Enterprise Strategy Group. "However, these distributed compute environments create significant management complexity. Cisco ACI Anywhere, and more specifically, Cloud ACI on AWS is helping to consolidate and simplify management across the on-premises data center and the popular AWS cloud environment, something that we expect will be well received by all market segments."
ou can learn more at the upcoming BrightTALK webcast.
Source: blogs.cisco.com Credit@ Srinivas Kotamraju